It is "Outdoor Wednesday" as hosted by a
Southern Daydreamer
Our area, the Tidewater area of Virginia, has been competeing with the tropics lately. I am almost certain if we added up inches of rainfall we'd find ourselves awfully close to Tropical climate! And so, we've noticed a startling amount of erosion off the driveway and the back corner of the house. Enough that we figured we needed to take action.
So on Thursday we had dirt and rock delivered. They dumped 1/2 the load of dirt into the street because the TRUCK alone weighs 16 tons, with a full load of dirt it weighs close to 30. They were worried about cracking my driveway! So they dumped the dirt in the street and at the bottom of the driveway.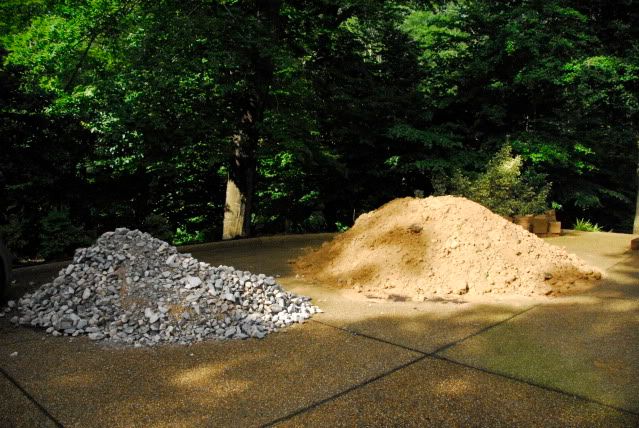 Friday Dragon and his dad moved most of the dirt out of the street. Saturday, Dragon, Tiger, Bear and I moved dirt. From about 9:30 or 10 AM to about 3:00 PM. We did break for lunch and often for lemondade too.
Dragon with the dirt pile:
Tiger with the dirt pile:
M-Lyons and Bitsy "helping"
My husband spreading dirt on the incline. You do not get a feel for the steepness here, not even a clue.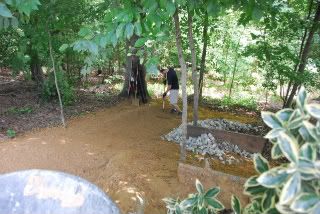 I have the strongest toughest kids on the planet. They worked hard, without whining, the entire time. WooHoo!