so I was visiting at
A NEW KIND OF NORMAL
and found a link to
The Sisterhood of the Shrinking Jeans -
spent a little time snooping around and decided I rather like them.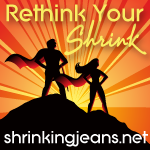 I try to stay away from posting about my on going size issues. But like most of the women I know, I have them. And yes, every January I get on the scale and write my list of resolutions and they always include weight loss, and darn it, it seems that my body has found a new, 'normal' weight. Not one I like much.
So...
I may be blogging about that a little more because I swear I'm going to be closer to what I think 'my weight' ought to be on my 40th birthday than I have been since I had my first kid when I was 27.
Consider yourself warned.
(oh, and I promise not to go over board and turn this into a weight loss blog. because it isn't. it is just one aspect of it.)