The last project I did for the
preschool auction
was a small table. I love kid's tables. I think they symbolize a place where markers and water colors are sanctioned, on a surface that is will not be mourned if the artist were to ruined it. And tea parties, lots and lots of tea parties. But anyway.
A table with two chairs was donated.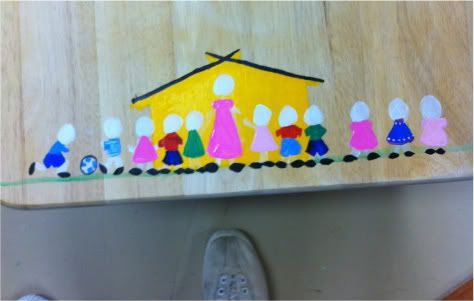 I spent the most time painting on this piece. I had done a little bench a few years ago for a different fundraiser and that was when I first tried making little stick style people with thumbprint faces. I had liked how it turned out. Because of the size of this table I felt I had space to add a little scenery for the kids. So I put in the yellow school house on one side and the tree and playground on the other. The table itself was in good shape so I just sanded down the top but as I didn't give it a base paint coat I was painting directly on the wood. This meant a few layers of each color as the wood soaked up the paint. It also meant that when it came to writing in the names the ink bled a little bit, which I hadn't considered.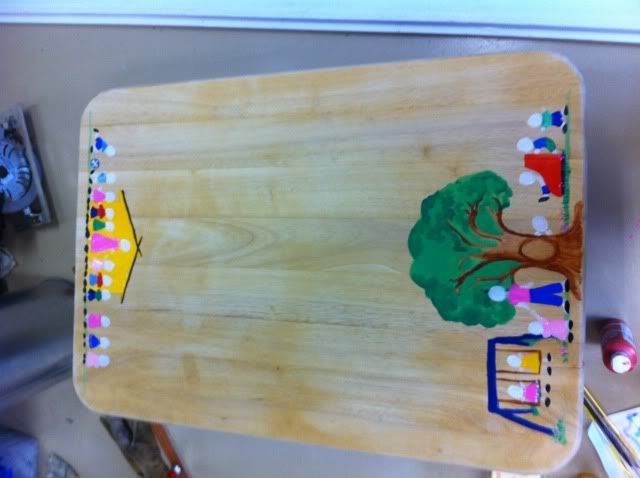 My daughter is in this class so I also knew a little bit about kids and parent personalities. I didn't know them all, but I knew I could put a particular little boy peeking out from the tree and his mother would think it was cute. And I put my daughter and her best friend on the swings together. And I painted two cousins in the class playing soccer together and the ball had the team colors for Greece because I know that is who their dads cheer for in the World Cup :)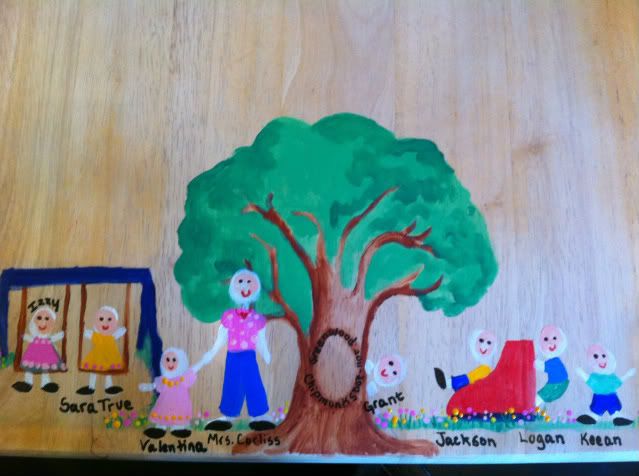 This is the painting finished off. When their faces aren't on, the black shoes seem too dark but once you add the names in black ink and the eyes in black it sort of balances out.
and then I used a spray can varnish. I was pleased with how that sprayed on, in the past I've tried a brush and for some reason I cannot get it even! This little table was bought at the fundraiser by one of the class moms who then gave it to the class. So now it is in their room and they use it as an art table. I love that!
Pin It