The
Virginia Living Museum
is in Newport News Virginia and we've been members for years. I love the museum,
fish tank

s
, nature trails, and
butterfly rooms
are my kids' favorites. I often go and promise myself that one day all the little people will be in school and I can come sit and sketch... and the oldest has even gone on a week long camp with the museum during summer.
But this past few weeks we've had the pleasure of seeing yet another side of the museum. We have had some yard work done- involving grading a fairly large section of our backyard that backs up to watershed that is protected by the EPA. (No worries, all the yard work was approved by the county prior to any activity and yes, the papers are all on file. So all you watch dogs, go ahead and call and they'll tell you, we are legal.) We are putting in ground cover and so on for erosion control and I thought it would be a good idea to use
native VA plants
instead of accidentally putting in something that was aggressive and threw off the all that nature. So I called the
Virginia Living Museum
and was put in contact with the horticulture curator Bruce Peachy. Mr. Peachy has been extremely kind and generous with his time, we've had several phone conversations and he helped me pick out plants and even offered to help me purchase some. We are using
winecups
and
virginia columbine
.
In the meantime:
My yard's been looking a bit like this:
and we've been having visitors:
Snapping Turtle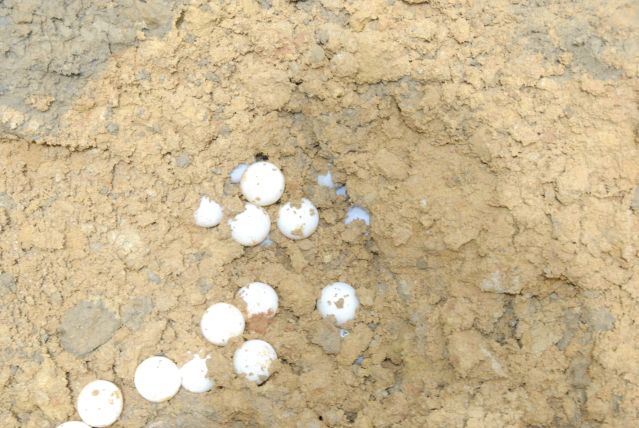 This Snapper found our fill dirt and decided to lay eggs! So I called the Virginia Living Museum again and spoke to someone in the Herpetology department. He said there is a brief, 24-48 hour period, during which you can move turtle eggs without damage to the eggs. So K, my 14 yr old, gently moved them all to a new nest. You need to replicate the original as much as possible, so she moved some clay and attempted to keep them at a similar depth. And then the raccoons found them.
And the next day we saw another turtle (or maybe the same one? I am not sure.) on another pile of dirt. This time the top soil.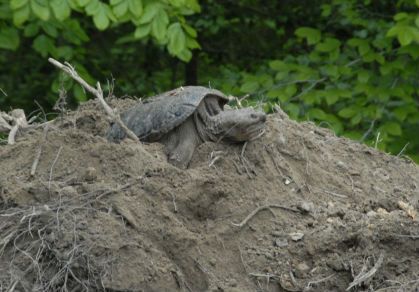 She's harder to see, I was on the deck.
And so K moved these eggs as well. Over 40 of them!
This time we tried to keep the raccoons out. The Virginia Living Museum's Herpetologist said that if the openings were over 1 inch by 1 inch the baby turtles could crawl through.
Online it says we have 60-90 days to wait for baby turtles. It has been two, so far the raccoons have been foiled. They are smart little buggers though.