Every August since he was about 10 years old my husband has headed to Hilton Head S.C. for a week of vacation. This year there were conflicts, the biggest being my oldest child's High School orientation (she'll be a freshman). So we worked it out that he would head south with the majority and I'd stay here with the oldest- and after orientation I'd drive down too.
(For the record, I have driven to Hilton Head without my husband numerous times because of work conflicts- and then he'll fly in and meet us)
Saturday my husband and 5 of our 6 children drove to S.C. to spend a few days at the beach.
To be completely honest, I really don't want to go join them at the beach. I am having a marvelous time here in my house without all the chaos!
The oldest and I have spent the weekend working on her bedroom (I posted about the
teen-ager bedroom make
over
here
and
here
)
As we haven't had the younger ones distracting us we got back to work.
still so much to do!
She spent a very rainy weekend in her room. This set of dresser drawers was her Aunt's. It has been in the attic for a number of years but I need her old ones for Bitsy and MLyons in their room... so we dug this out. I forgot how sturdy it is. It does need some work, the drawers don't all line up properly, but it is made by
Bassett
and so might be worth the effort.
Today, Monday, I had a meeting at the office at 9. So I drove K in and she worked while I was at the meeting. (K's dad taught her a bit of SAP and so she's been doing some "mapping" for him this summer.) And then we had loads of things to take to the DAV thrift store which I like to donate to because it is on my side of town- so I feel my donations service people who go to school with my kids. K did a run through to see if there was anything interesting and I went in as well.
what it is?
I found this under the table at the DAV. I'm not exactly sure what it is. At first I thought perhaps a gun case? But my mother's boyfriend said if it were a gun case the handle would be more likely to be on the side and not on the top. Hmmm... whatever it is, it is solid, and the wood has that wonderful beaten up "do I have a story" sort of feel to it. I hemmed and hawed a bit and decided it was worth a try. Maybe we will put it at the foot of K's bed, or maybe in a corner, but it is kind of an interesting piece. And then someday I can put it on the deck and make it a pottery shelf.
And K seemed to think that this vintage suitcase would also look good in a corner, maybe with some books stacked on top of it.
We looked around a bit more and found a lovely china plate, two wonderful belts (or $2 a piece!) and a couple of blouses. And then we hit the Goodwill of Williamsburg and scored 3 pair of jeans. Yay us!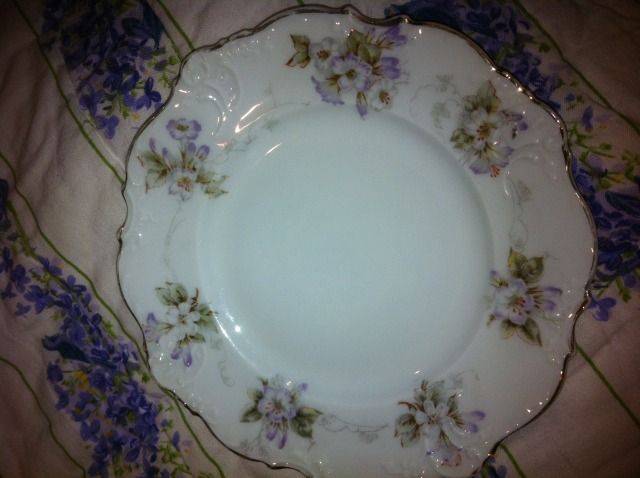 pretty lavender flowers