K's room has been on hold since school started. Field Hockey and Latin III have taken priority. However, last weekend we had guests and in getting the room ready to be the guest room we pulled it together enough to be able to see the progress.
For "before" check
here
.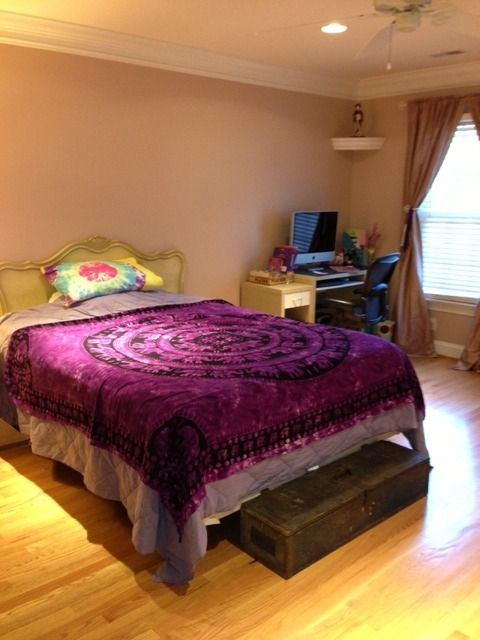 The walls used to be pink, now they are "Likeable Sand" by Sherwin Williams, SW 6058
The desk we had. The curtains I had bought for the master bedroom in our previous home and they didn't work in this house so they were put away for 6 years. The head board on the bed had belonged to my husband's grandmother. The desk belonged to my husband's business partner and we've had it in the room for a few years. The purple batik cover she has thrown over the comforter I bought eons ago. Over the years it has been a blanket on the beach and at soccer games.
From the other side. The lamp is doing kind of a weird thing there in the corner! The bedside table goes with the head board. The lamp was also a hand me down from the same grandmother. The rocker we got from a school auction. The wooden desk is a Jeffersonian replica that my dad bought for $50 at a moving sale in Monterey when I was in 3rd grade!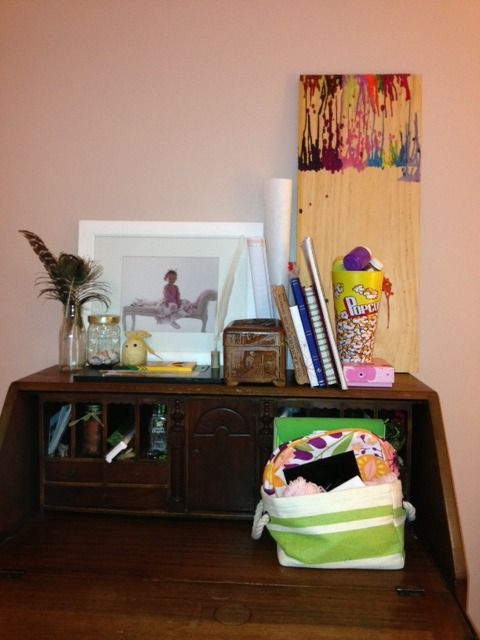 She uses the Jefferson desk for her more personal stuff and the other desk is for homework.
We still need to find a few pictures for the walls and some rugs.
It has been fun to see her environment better reflect who she is. It has also been fun to pull pieces out of the attic and from other rooms in the house and enjoy a "new room" with out having had to purchase furniture. In fact we only bought paint, and a few small accessories. Which is pretty neat when you think about it.