On Monday I met a flight at Norfolk Airport to meet Thalia. Thalia is our new puppy. She is a German Shepherd Dog. 4 summers ago we said good bye to our much loved Malachi. The day I came home without him my son asked if we could get a new dog. My husband said "yes, but only a German Shepherd Dog." Have you ever trained a GSD? They are not low maintenance dogs. So I said, "I want a fence first." And there was the small matter of how much they cost.
Well we now have a fence. And we are in a better financial position than we were 4 years ago. And so, when we were out in Oregon this summer it went something like this:
Tim: That was a beautiful Shepherd in the back of that truck.
Cailin: Not surprising. When I was researching Shepherds a few years ago there were several breeders in this part of the country.
Tim: Well see if you can find one and we'll bring it home.
Cailin: Really?
So, right then, in the car, I started looking up breeders online.
And just to be sure, I looked up some in Virginia. The Virginian's weren't breeding any more puppies this year and only had males. They strongly suggested that since the dog in my house is a male that I look at a female. Eventually I came across the website for
Vom HausReid
. I liked what I saw so I gave them a call and talked to Ray and put in a deposit on an expected litter.
Well, the expected litter ended up a false pregnancy. So we waited a little longer and then eventually we got a call that they had a female for us. Turns out she was born in Germany. She has a very fancy name. This is her dad Hero von den Herbsteitlosen.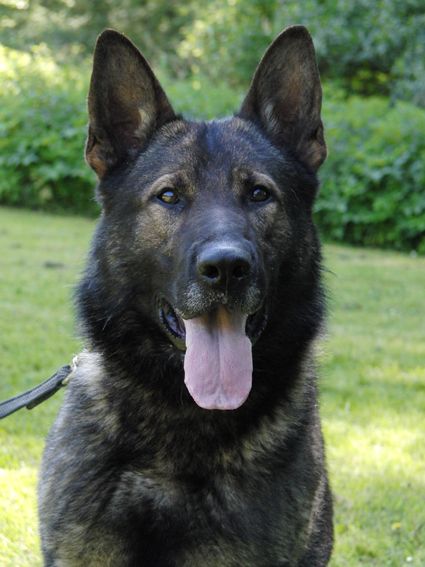 He is beautiful.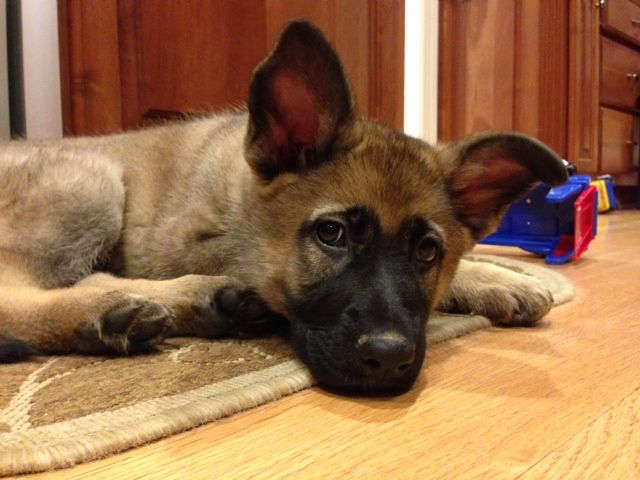 Thalia
And this is my new baby girl. Call name, Thalia. As in daughter of Zeus, one of the three muses, also referencing Thalia of the Percy Jackson books. And finally, in honor of Tag, my first Shepherd. Tim, who has never trained a dog, has taken her to work twice this week. Today I heard reports that she was in the conference room during a staff meeting making the rounds and being petted by everybody.
She is one tough little girl. After that full day of flying I had told the kids they would need to give her some space and let her adjust. She waltzed into my house and went up to my husband and covered him in kisses, did the same to my high school student and the next morning wanted to meet everybody and say hi to everybody and actually pushed the labrador puppy aside and ate the lab's breakfast. That is confidence.