playing in the rain
I'm lucky to be in communication with my cousin. He's younger than I am by enough that our childhoods didn't really coincide much - but thanks to things like facebook and twitter - I get to read his snarky remarks and respond with my own. And we've got a little bit of a feel for each other these days. He is many things. Snapshot - while he lives in the city making a living being literary and makes his way to work via mass transit (inspiration for many snarky remarks)- when he's home at his parents he'll often choose to sleep outside in a hammock instead of in the house. A particular concern of his is the growing trend of American children who do not play outside. There is a sense that there is a young America that is disconnected from where their food comes from, even from the planet they live on. So consumed are they by the world inside.
It is a topic that I am not as sensitive to as my neighborhood offers a haven for children who wish to be outside. It is not uncommon to see another mother and have a conversation along the lines of "I'm sorry he was such a mess when he left our house yesterday. They went down into the ravine and were gone for hours." And the retiree up the street shocked her friends by saying, "oh the kids on my street are always outside on their bikes" and even more wonderful are all the neighbors who indulge the summer "man hunt" sessions up and down the street. So for my cousin I took pictures yesterday-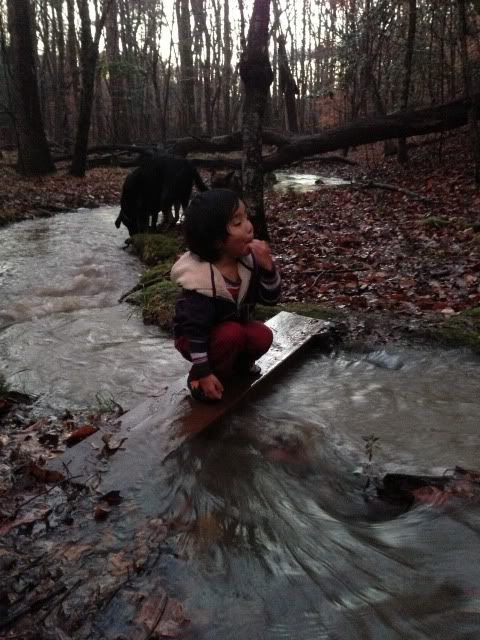 yes, I'm afraid he IS tasting the water
I pivoted from the where I took the photo of the kids on "the bridge" and took the picture of my house. Not quite literally "my back yard" - I don't own the property, past the fence up there, but still.
I'm not poo-pooing my cousin's concern. There are kids at the preschool who only play outside at preschool. (now there is an argument for longer -rather than shorter- recess sessions). And then there is my nephew (who I see rarely and have little to no influence over) who made me shudder this summer when my kids went outside at Nana's and he smiled and said "I'm more of an inside person." (Dude, you're 10. Get your lazy butt outside.)
In our conversations my cousin has suggested the book:
"Last Child in the Woods: Saving Our Children from Nature-Deficit Disorder" by Richard Louv
As many of my blog buddies are outdoorsy kinds of people I'm wondering if they too feel there is a trend towards disconnect from "outside."