every year that I have lived in Williamsburg, there is a
Nutcracker
Performance at Phi Beta Kappa Hall (William & Mary campus). For the last several years it has been performed by the
Virginia Regional Ballet
, which continued the tradition started by Chamber Ballet.
This year my 7 year old joined the cast - as one of Mother Gigogne's children. What an experience! We had our moments - when rehearsal conflicted with a friend's birthday party she was disappointed - and when we had to shorten our Thanksgiving trip by a day my husband raised his eyebrows - but it was worth every minute!
Here we are experiencing our first dress rehearsal panic:
no curls! and trying not to cry
She lost her curls. Her what? Her curls. Each little dancer in the Mother Gigogne dance bought a hair piece, and mine lost hers. And "forgot" to tell me until the dress rehearsal on Wed. with the first show being on Saturday. Oh No! Unfortunately it was picture day, as she was barely holding it together, we didn't buy photos. But- the upshot is that she did hold it together, and rehearsed, and I hope learned a valuable lesson: When things aren't perfect, chin up & keep going.
That's mine, in the pink in her pantaloons. Missing hair was minor, some of the costumes didn't make it from the studio to the theater and the girls rehearsed in bits and pieces. Someone ran back & got them though so they did arrive. Just one little hiccup.
The studio keeps an emergency set of curls just in case. So on Friday we borrowed theirs. Saturday & Sunday too.
watching Act 1 on Friday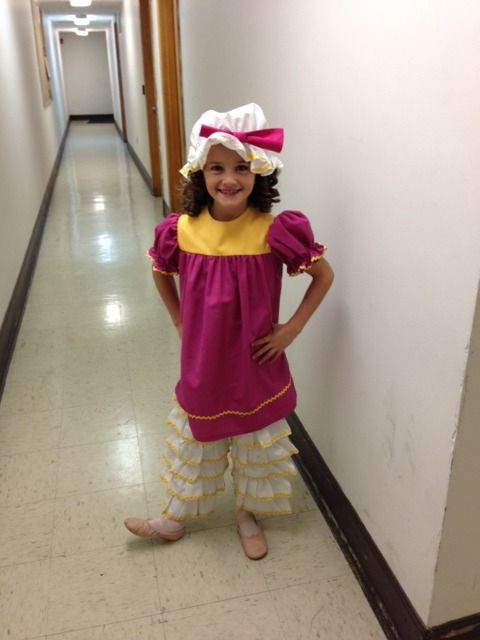 ready for make-up!
In addition to the students at our school, the cast in rounded out by the Margie Willams Studio of Dance, and the Pennsylvania Regional Ballet as well.
This year our principal dancers included,
Lauren Fadeley
as the Sugar Plum Fairy,
Francis Veyette
as the Cavalier, hometown favorite
Cornelius Bartlett
, and Stan Evanstine continues his role as Herr Drosselmeyer.
As for us, I am delighted that my little "gingersnap" danced well for her three performances, and despite the late nights involved loved every minute of being a part of a big production.