We are very excited. We almost have a ski house in Wintergreen. No, it isn't the most amazing ski mountain on the East Coast, but it is the closest to our home and it has a ski team. So there you go. Plus the people we've met who are a part of that community are really cool.
Sometime this winter a friend handed me a bag of hand-me-down clothes. As a mom to 6 I never say no to the offer. Now, this particular person had simply cleaned out all the old clothes and put them into bags without sorting them at all. I dutifully went through "keep this" "goodwill this" and there were a few things that weren't wearable anymore. Goodwill says that they will send those to rag pickers to be used in furniture stuffing and what not - but inspiration struck. I could use these to make a rag rug. Yes, I know, L.L.Bean has rugs for sale at very reasonable prices *and* they are made in the United States. I heartily support this. On no, I'm not a professional crafter. More of a bits and starts kind of a craft person. But still, I wanted to try.
So in the evenings I've been stripping the clothes, and creating this long braid of red, and cranberry, and green, and chocolate, and grey...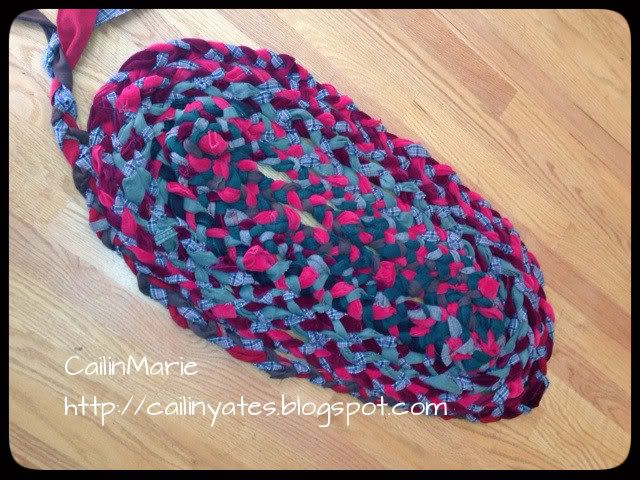 and this is what my efforts have lead to so far.
This week my husband decided to make some purchases in anticipation of our closing date on the house. He was looking at rugs at L.L.Bean. He bought one for the kitchen, and one for the great living room, and then asked what I'd like in our bedroom. I teasingly asked him if he did not care for my rug. He answered, "I like it very much but while you are standing on it with one foot where shall I stand?"
So I would like to take a moment to point out that I can stand on it with two feet thank you very much. And I'm in desperate need of a pedicure, perhaps he can keep an eye on the children while I attend to this matter.
More to the point. I found this pillow at Orvis.com and recently Orvis held a large sale and so I purchased this pillow for like $18. I bought it because the colors are exactly what I want in my room in the mountains. The chocolate is fabulously warm. The rug works with the pillow, all those reds and cranberries, and greens and blues. Yummy.
We will be eating off a folding table for who knows how long because my husband has decided to make the dining room table. (He has mad carpentry skills but he has no time.) So if I'm willing to wait for a table, and willing to believe in good faith that said table will in fact be made. Why can't he wait for a rug? So peeps, the race is on. This little rug needs to be a big rug before the man finishes his table.
Shared: