Last week Monday we closed on a house in Wintergreen, Virginia. Yay us! As mentioned in previous posts my husband is a coach with the Wintergreen Alpine Racing Team, and my kids are SARA racers. And for 2 years we have bummed off of friends for a place to stay. Our friends are most gracious! But we have diligently looked for our own weekend place and are so excited to have found a house that suits our family and our budget. Sadly it was a foreclosure and I hate that. But it what it is. And it is a lovely house. I was really lucky in that the day we closed, my husband and some of the guys he works with drove up there. They put in the appliances (the house didn't have any) moved in beds, patched walls, redid plumbing in the utility room and a host of other things before I arrived with the kids on the weekend. They did a lot of work. I'm very grateful.
In a previous post I had shared that I'm braiding a rag rug for my ski house
. And I had also shared that my husband had teased me about how long it was going to take to make it. And that we were buying rugs from LLBean as well. Well obviously I do not intend to make rugs for the entire house. That would take forever! And as I mentioned in the previous post,
LLBean goes so far as to sell rugs made in the United States
. How cool is that? We like the all weather rugs as we expect a fair amount of dirt and snow (despite our best efforts) with 6 kids and the dogs.
Also in the previous post I had mentioned that the husband plans on making a table, and we were borrowing a folding table from his parents until further notice.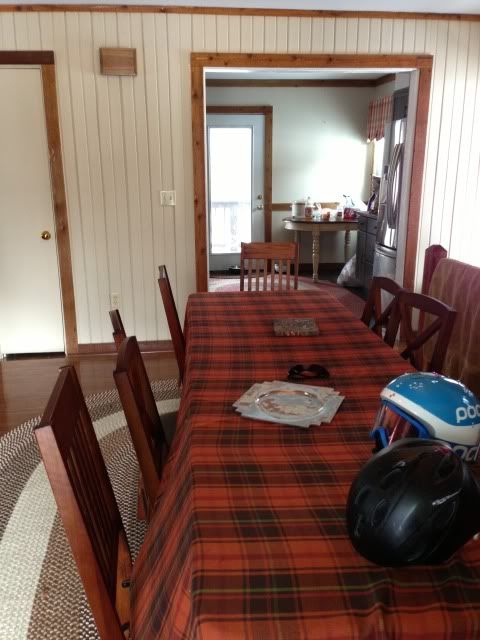 So there it is, hiding under a lovely table cloth by April Cornell. I've had the best time with pinterest in organizing what I wish to purchase. It is a great way to window shop, and catalog ideas and items, and then finally get around to purchasing them.
A REALLY dark photo of the kitchen. All of these were taken with my iphone. But as I get going I'll get the good camera out. I'm really excited about this house.