The other bedroom:
This is K's and the guest room (well, I keep telling the kids that all the rooms are potentially guest rooms but this is the first option)
K is the one who wants a mountainy room. And she is particularly fond of bears. So we'll be adding some bears here and there as we go.
I was in this room several times trying to get a decent photo - the lighting was just not working for me! But this the idea:
So this is another headboard out of Grandma French's house. The little dresser on the side was a find at the Rockfish Gap Country Store. Tim fussed because the marble wasn't a "real top" and was just cut and placed on the dresser. Whatever. It isn't cut exact but I like the way the wood works with the bed. And K likes the marble. Or fake marble, or whatever it is.
The sheets are flannel from the Vermont Country Store (online) and are *fabulous!* possibly the best in the house. I found the comforter cover at Overstocks and was a little suspicious but it'll do. The curtains are from Orvis and have lining to help with temperature regulation. Wonderful.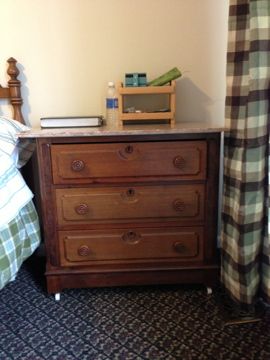 This is K's first art purchase. She bought it in the Wintergreen area last year with our friend Brigid.