It is time to start thinking about the garden. Last year when Tim overhauled the back yard, he created a space for garden beds. Well, they are full of dirt, and he's got a drip line going through them, and even though it snowed yesterday (what!) it is time to start thinking about planting. Most people wait until April 15th for planting, but greens can go in a bit earlier. So today I put in a green bed: lettuce, spinach, kale, onions & radishes. I looked up companion gardening and they said that lettuce like onion and radishes. Spinach and Kale are supposed to like radishes too. And then because I just couldn't stand all the nice, neat orderliness, I stuck a sunflower in each corner with a nasturtium and sweet peas, and also a row of nasturtium down the middle of the greens bed. Whew, a little color!
Tim has bought all sorts of seeds and started some in the kitchen. I used to start seeds some 20 years ago, but I've never had any luck moving them into the garden. So I think it is pointless. But he's got the kitchen counter covered in seedlings... we can't put them any where else or the German Shepherd Puppy will get a hold of them. As it is she destroyed a house plant today. Dirt and roots everyplace...
I put in white onion seeds but we had red onion starters so I put some of those in too... but I hate it when you open it up and there are 6 useless moldy ones. Grrr... Since we get gift cards to Home Depot through our AmEx we shop at their garden center - But it seems that you can't be sure of the quality. Like fruit plants, the kids want blueberries and grapes and apple trees - I'd rather buy from a grower than from a big box place. Sure, the grower's trees are $10 more, but they are usually guaranteed as well.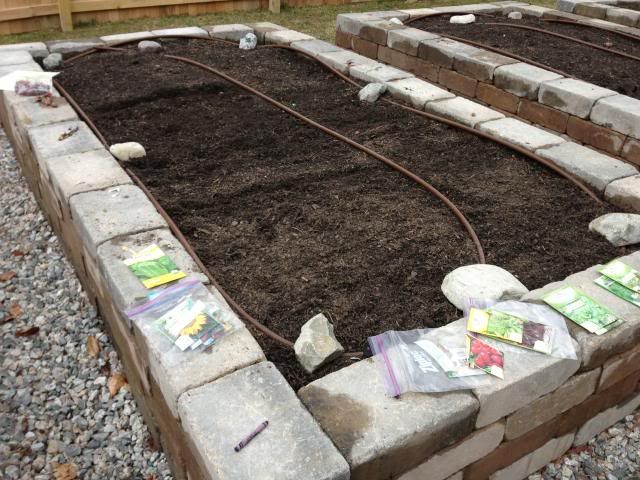 new raised beds
Home Depot Starter Onions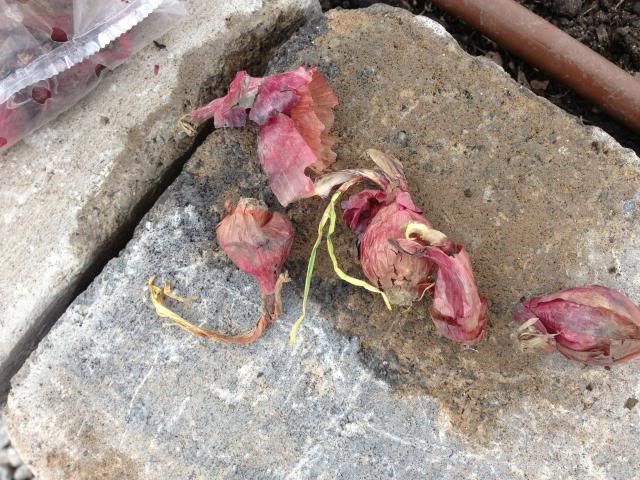 not so good starter onions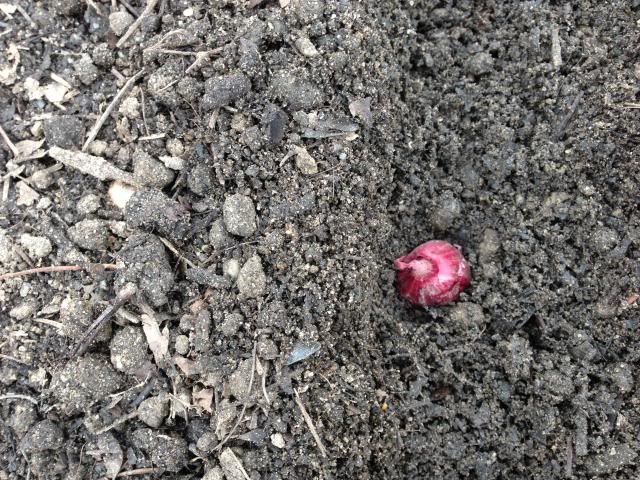 ready to grow!