James River, Virginia
Last Saturday I the dogs and I took the ferry coming home. It was a busy day on the Ferry and we sat in line, a ferry loaded but we were not on it. Sat in line a little longer and we were the fourth car to board the second ferry. For the past few years they have added a security check, an officer with what looks like an overside dental mirror will walk around your car and sometimes they'll ask you to open the back. My car was chosen for inspection which proved to be a "loud" ordeal as the dogs sounded out the entire time. Once on the ferry I was parked right at the botton of the staircase. Our ferries have an upstairs area with restrooms. I groaned as they parked us, "really? by the stairs? Thalia will be scaring every person that passes by!" So I sat in the back seat with her and people watched. I find people watching highly entertaining.
When I was directed to park a group of seven or eight motorcyclists were directed to park to my right. They were wearing t-shirts that said "Fade II Black" with a skull wearing a hood on them. Sounds grim but it was kind of a cool graphic. They all dismounted, took off jackets and guards, some went up stairs others looked over the side of the boat. An older gentleman wandered over to have a look at the bikes.
look at that bike
I don't know why I snapped the picture exactly, something about his posture and the seriousness of his examination interested me.
"you can spin it"
I heard the man in the grey sweatshirt with the black rag on his head say "you can spin it" and walk over. He pointed to something that looked like it was on the exhaust (but I don't know heads or tail about motorcycles so I don't know) and spun it around. They got into a conversation. Then the man in the black T-shirt came over. I think he was riding the blue bike. He and the other biker talked a little smack about which bike was better, the blue one or the green one.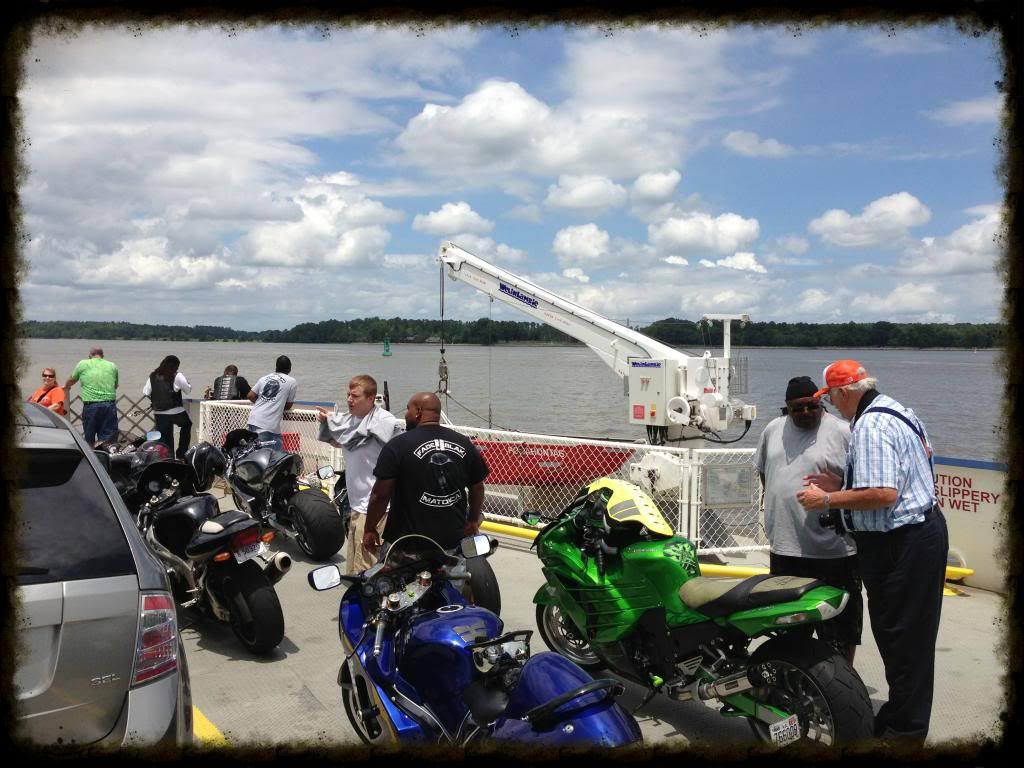 I like this picture because of the body language of the two men in conversation on the right, and because you can kind of see the T-Shirt on the man walking away. That man that rode the blue bike, when he suited up he had a black face mask with a white skull face. It covered his entire face. And then a shiny helmet shaped a bit like Darth Vader's helmet. You never know what you'll see on the ferry!
I meant to publish this morning and link up with a Southern Day Dreamer's
Outdoor Wednesday
. But I somehow deleted what I'd written. But it is still wednesday... so I'm joining the party