So as I said in the previous post, I'm having a go at Spanish History. I picked up "Spain: A History" by Raymond Carr at the library. It is comprehensive, and I've muddled through Phoenicians and Visigoths so far which brings me up to the Arab invasion I believe. Not yet close enough to give me much to go on in regards to the Civil War but interesting non the less.
When I was nearly 10 years old we moved to Spain. My father was an Air Force pilot who had taught at the Agressors for 3 years and was assigned to help the Spanish Air Force create a school like the Agressor School. It was an immersion experience, different from the experience of many overseas military, we were not at an American Base. The city we lived in was Badajoz. I believe at the time, 1980, it was the capitol of Extremadura, although Merida had been in the past and was vying to become the capitol again. The old city had a Roman era bridge across a very low river (there was a bad drought at the time) and two towers stood at the wall around the city. Our apartment building overlooked the river and the two towers. (some time ago I posted a snippet about all this &
a passport story
)
I've dug around for some old photos of Spain. I didn't have access to a scanner so I just took photos with my phone and then because my phone and my computer seem to have decided not to speak to one another this evening, I emailed them so I could download them... how's that for a run around?
traditional dress
My Fourth Grade class at Puerta Palma participating in a feria I believe. Sort of a celebration of traditional Extremadura, I remember going to a weaver's and learning some really wonderful folk dances and my mother borrowed a full costume from a friend: wool tights, wool skirt, velvet top, fabulous necklace, shawl... hair up with red flowers. I am all the way on the right in the flowered shawl. Some where there is a full photo of me in the outfit, front and back, but I cannot find it.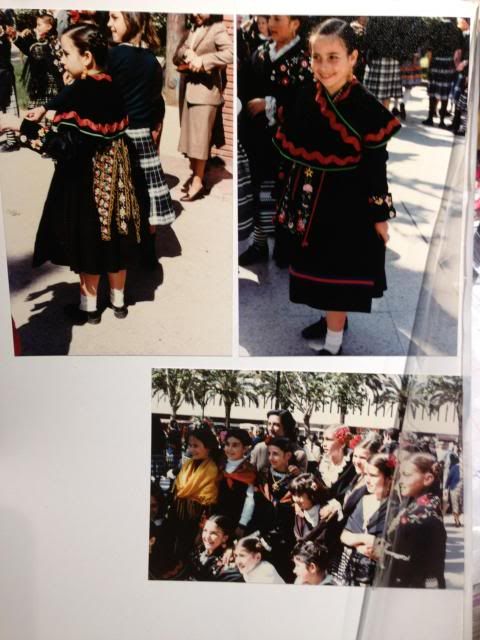 photo album, Uca in folk dress
Granada, The Alhambra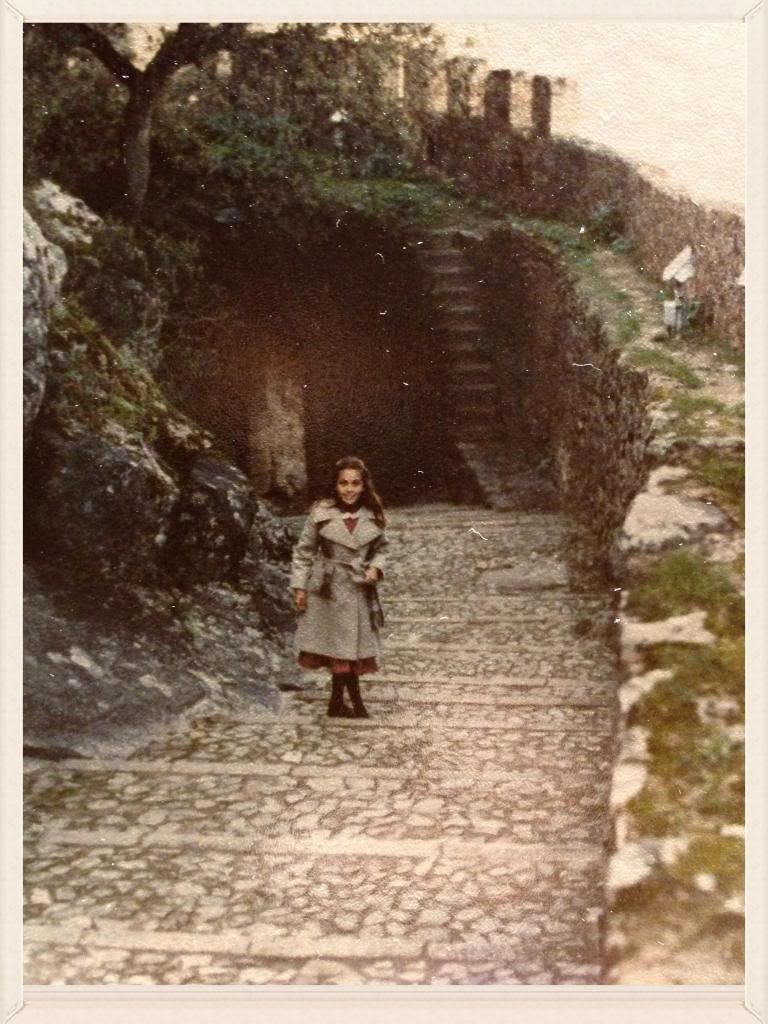 ruins
Seems all my memories involved old ruins made of stone. There was a park not too far from the house, and an old ruined structure and we'd go play there. There were ruins on the outskirts of the city that I remember, they had what we thought were catacombs in the lower level.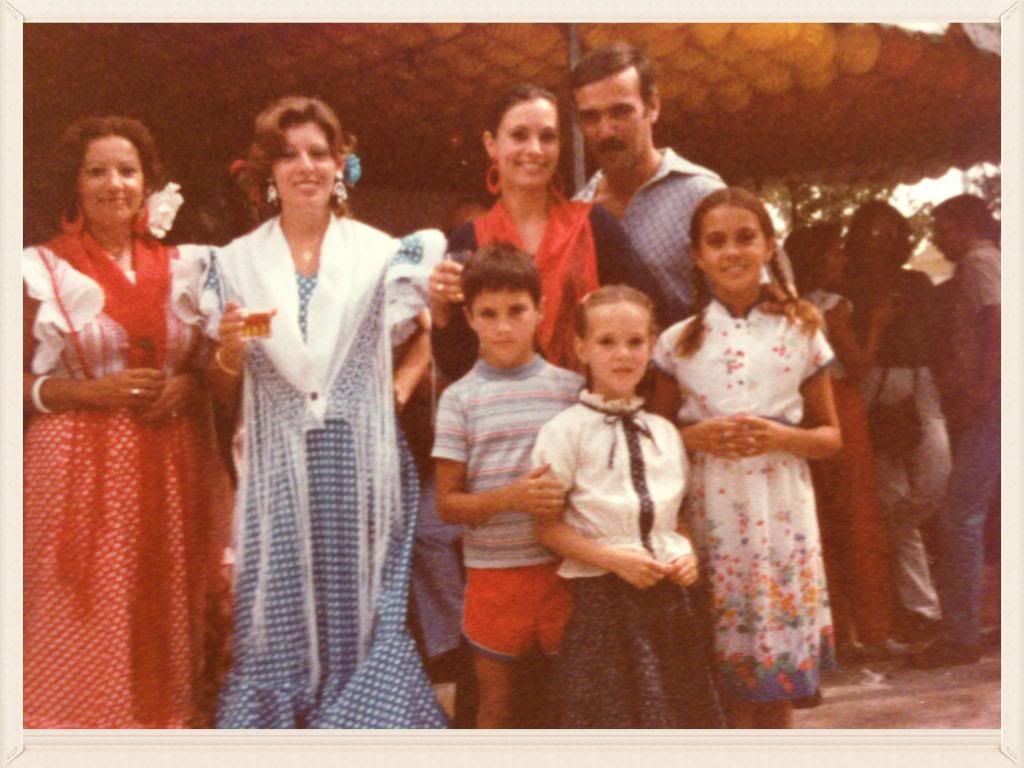 Feria de Sevilla
I need to dig through my mother's old albums. There are amazing photos of the Feria de Sevilla. It seems to me this picture was taken shortly after our arrival to Spain, which doesn't make sense chronologically because I thought we arrived in November and it looks awfully warm in those pictures. Well I just googled "Feria de Sevilla" and Google says that the fair usually begins two weeks after Holy Week, so it was in the spring. Either way, it was our first feria. The other pilots' wives dressed my mother up in something with a red shawl and red earrings and out we went into the tents. I was pleased to be allowed to drink Orange Fanta. Like everything else, Fanta taste differently in Spain than it does in the United States. I don't know why.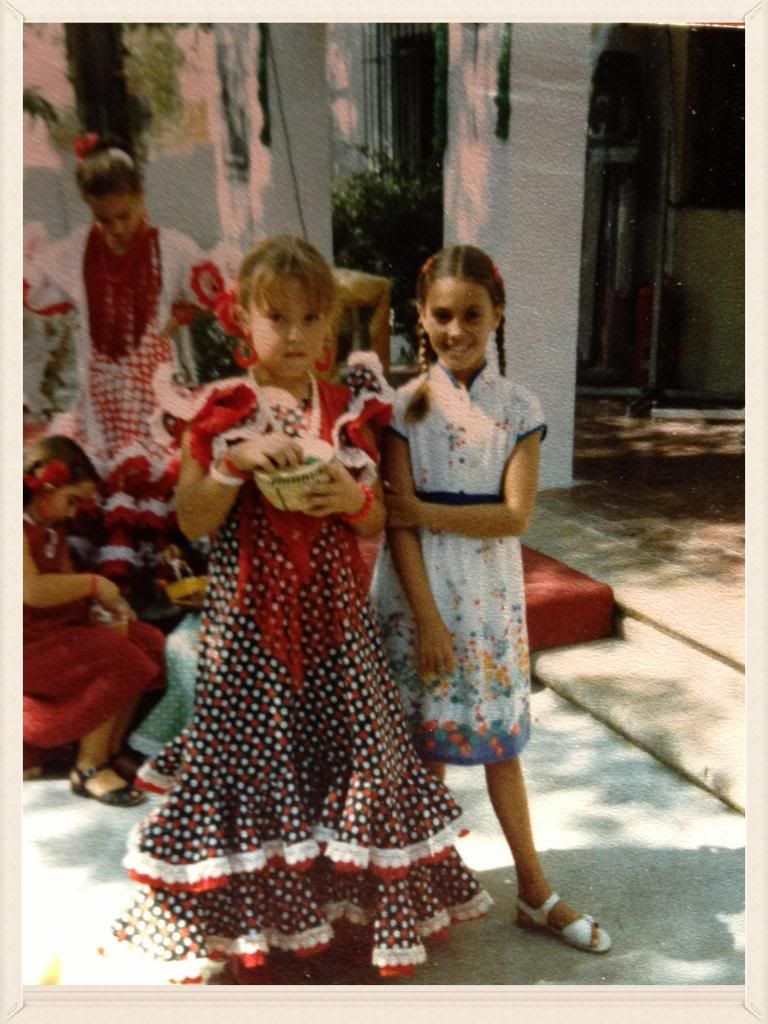 la Sevillana
I'm in the braids. So the following year we went back to La Feria, and we had Sevillana dresses that my mother made for us. Yes. I can't find pictures of that either. I only knew one dance, and danced it a few times, but there are many and the other dancers wanted to dance the one, and then the second and so on so unfortunately I was a bit of a disappointment to them. But the Fanta was good.
hmmm... seems I wrote some of this before too:
Badajoz
and there is a picture of my dad bull fighting.