Our little guy turned 4! I asked him what kind of cupcakes he wanted to take to preschool and he gleefully replied "Thomas the Train!" I had meant, "chocolate or vanilla." But now it was out there so I went to Pinterest to find help. Pinterest sent me to
"Hell-o-muffin!"
and Little Hawk loved the train photo there!
And so this offered some inspiration. I knew mine wouldn't be quite so amazing as this... but I gave it a shot and I'm pretty pleased with the results.
Cake Mate cupcake paper cups. I haven't tried the no-fade ones before and I'm pleased with the results. I opted for cake mix cupcakes. Red Velvet. Yummy.
I thought about drawing a track like in the photo, but seriously? Why? We have lots of track. I thought the Melissa & Doug puzzle track would keep from moving too much, so I used a cookie sheet, covered it with napkins and placed the track and the train over the cookie sheet.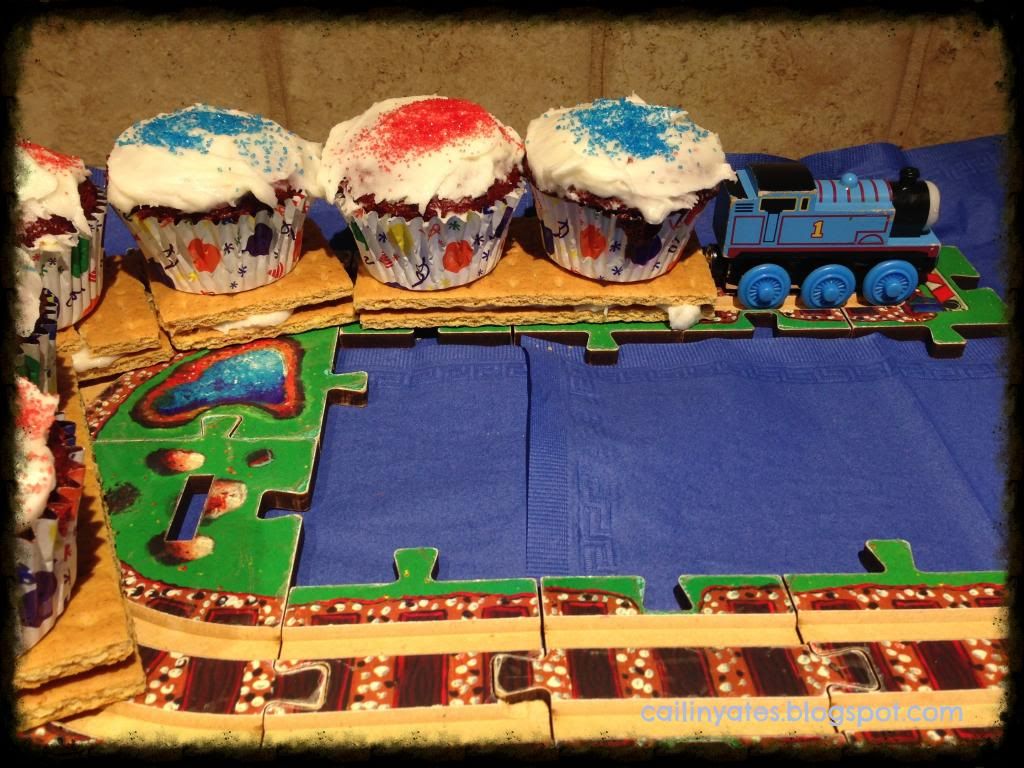 In the picture from Pinterest, you notice that the cupcakes sit on top of graham crackers. I used the cupcake frosting in between my graham crackers. I didn't use anything to "fix" the cupcakes into place, I just set them on top of the crackers.
add wheels. I used Trader Joe's Joe-Joe's cookies but you could use any kind of cookie.
linking to Smiling Sally's Blue Monday