Last year one of my girls was in the Nutcracker Ballet as one of Mother Gigogne's children; I call them gingersnaps. This year I have two.
I looked up "Gigogne" for spelling and Wikipedia
has this as Vsevolozhskys original design
for Mother Gigogne in the Original Nutcracker Production
Tonight our ballet company held dress rehearsals. As Ms. Adelle does not require the littles to attend rehearsals over Thanksgiving they had had a bit of a break from practice. And our "Mother" was there, played by a wonderful man named Tim. Prior to his appearance Ms. Adelle had stood in for Mother. So our Gingers were a little off at first. But they ran through the dance a time or two and by the end everybody knew where they were supposed to be.
If you are in Williamsburg December 14 or 15th, come see our Nutcracker. I promise the Gingers will be ready.
For more info: The Nutcracker
Bitsy caught admiring herself. Too sweet!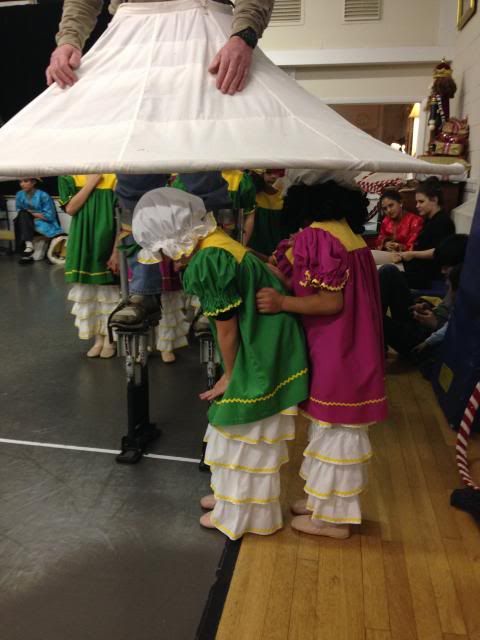 My little Ginger hiding under Mother's skirt
Bitsy is the little ginger in the pink. They hide under the skirt and then jump out during the dance.
Little Gingers Jump Out from under the Skirt!
and skip away
Bitsy is under that skirt!