Well there is me, obviously, and it is time for an updated edition and I'm 42, I'm a wife and a mother. I spend several hours a week working for the husband's company on the whole intent marketing thing, mostly via twitter. I do love twitter for work. When I'm not working, or driving kids ( I spend a LOT of time ferrying children. I'm sure there is a better way, I just haven't found it yet) I like to draw and paint, read, take pictures, & be outside. One of these days I'm going to have a design shop and I'm going to have a kick butt travel blog with fabulous photos, oh, and a house with, like, 10 acres roamed by a pack of German Shepherd dogs.
Then there is Tim. When I met him he was 24 and I was 23 (wow that sounds so young!) he was a mechanical engineer working with robotics within the automotive industry. Today he is a computer geek who likes soccer and skiing.
The story of our meeting: he had escorted "a friend of a friend"to her sorority dance at William & Mary and had ended up at "The Delis" after the dance in need of a ride home. I was at Paul's Deli with friends after a night of dancing at Mitty's in Newport News. I was DD. His friends knew my friends and I drove the car load to his place. He didn't have cable t.v. and put on a video of his college ski team for background noise. Which I watched. And critiqued. He went to a small school and apparently to fill out their points the team put anybody who could stand up on skis onto the course, I had to say something when one of the competitors was doing stem christies through the course. He noticed the critique and fast forwarded to his friend, who could ski, and then to himself. And there in a room full of Virginian's drinking beer we connected over my ability to tell the difference between a racing turn and a non racing turn.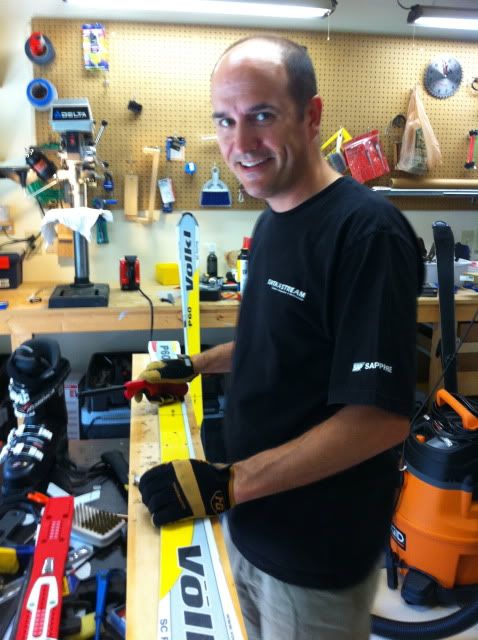 the man in his "shop"
Kids: we have 3 biological children and 3 adoptees
K is our oldest. In the blog I've called her Bear and Bean as well. Her nicknames have evolved. At the moment she is in 9th grade, exploring clothes, boyfriends and small moments of attitude. She is a conscientious student carrying a respectable academic load, she is a
fast skier
, and is coming into her own on the field hockey pitch. She is finally taking art in school, yay! and likes making useful things (crochet for example). She has two bearded dragons as pets (not anymore. we are reptile free as of fall 2012) and used to have a snake but sadly it died. (okay, I wasn't sad.) She is talented in many things, art, crafts, music, languages, working with animals, and makes awesome cookies.
2013-2014 finds her in 10th grade, she ran cross country this fall and was on the team that competed for states. Her coach asked her why she'd stop running to ski, was she going to be a World Cup Skier? he wanted to know. "Look at you! You aren't a skier you are a runner." We gently broke it to him that she's a skier. But she's still running winter track too- as long as she gets two rest days a week and can keep up with her school work.
Tiger is next. He is in 6th grade right now. First year of Jr High. The first week was great! We'll see how the year pans out ;-). He has decided to streamline his activities this year and after much struggle, decided now was not the time for martial arts. He plays travel league soccer, skis in the winter, has been a drummer for almost a year and wants to see his friends more often.
2013-2014 finds Tiger in 7th grade. Not as much fun as 7th. He continues to be a fantastic kid, is still playing soccer and drumming and tried out for the school musical (he's ensemble I think.)
Dragon is in 5th grade. He is 15 months younger than Tiger and hates that. He hates being younger than Tiger with a passion. Dragon is brilliant, very funny, socially immature and a little impulsive. School is a breeze and on the second day of school his teacher told him she doesn't believe he read a whole book in 2 hours. Silly teacher. He has tried a variety of activities but has a hard time keeping his hands to himself. Because he is a Yates he skis (and is fast and would be smokin' but he doesn't care). He is very good in the kitchen and I've started to ask him for help with dinners.
2013-2014 6th grade is *so much better than 5th grade! Hallelujah! His maturity level is starting to catch up to his height, he is still hilarious, and brilliant and lazy but is more self confident and that means he lets his sweet side show more.
photo via Purple Sage at Smug Mug
MLyons is in 2 nd grade. She is the child who can ask her daddy for anything and get him to say yes. (K could too, but she is too conscientious. MLyons is shameless.) She is possibly the most creative of the bunch and says she is going to be an artist when she grows up. She takes ballet and gymnastics and loves to get out there on the soccer field. Like her older sister she has more interests and talents than she has time for.
2013-2014 M continues to dance ballet, has the ski coaches eating out of her hands, has joined the Rainbow Loom craze, already knows 3rd grade math and most of the other 3rd grade material she needs to know and is a very nice person to boot.
Bitsy is nearly 6 and is in Kindergarten! She is full out personality and will outshine nearly anyone in the room. She is a cute, small, strong package of dynamite and she was diagnosed last spring with an auditory processing issue and has an IEP (whew!) She loves to dance and would rock gymnastics if she'd listen to the coaches. But she just laughs at them. We'll try again when she's older. She resents the presence of the little Hawk and wants to be the baby. Its getting old.
2013-2014 1st grade! So big! She dances ballet and was in the Nutcracker. She is outgrowing her IEP and is on grade level except for reading. She is still sassy and full of herself as ever and cracks me up.
reading to Molly
The little Hawk is 3. He is pure joy and cracks me up all day long. Recently experiencing separation issues and sometimes it is hard to tell if he truly has anxiety or just likes being "in control of mommy." Cars, trucks, trains and planes are his favorite things. He is also into EVERYTHING.
2013-2014 He qualified for Bright Beginnings and it is the coolest program ever. He loves school. And these days is obsessed with firemen.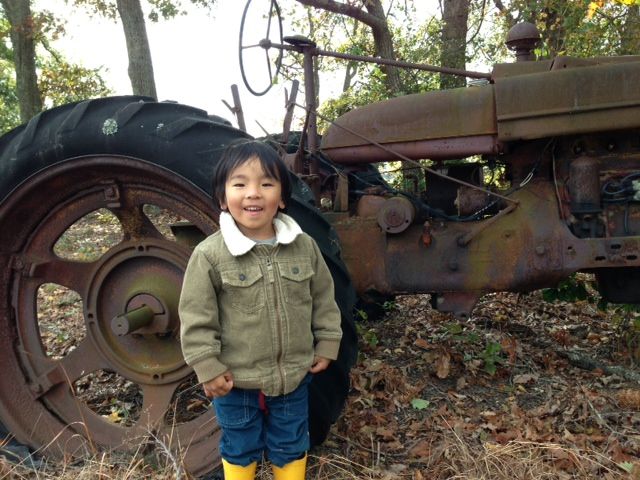 Bush Neck Farm
Kahn Sol is the dog. In February 2012 he will be 8. He is one of the two labs from the original blog title "5 kids 2 labs one lizard and a hermit crab..." He is about 105 pounds, black, with very soft fur for a labrador. He takes the job of securing the perimeter very seriously and loves it when I'm organized enough to get up early in the morning for a good long walk.
In September 2012 we added Molly Hogan. Molly is not our forever dog. We are fostering her for a friend of mine who recently left active duty Air Force. I said I'd get her through the puppy stages for him and provide basic obedience and house training.
In early November 2012 we added Thalia. Thalia has been a long time coming. After my previous dog took his last trip to the vet my husband said he wanted a German Shepherd Dog and only a GSD. They are wonderful animals but expensive puppies and take a lot of work to train. So now that the fence is up in the back yard and there is a light at the end of the preschool tunnel I said yes.
Thalia